Wow so I have 4 awards that were shared with me, thank you so much ladies!!
World Without Borders Scrap Award.
This was shared with me by two lovely ladies
Dee
and
Gypsy
. Thank you ladies you're both such sweet ladies full of life and energy and always put a smile on my face :)
This award is dedicated to a world without borders in the world of Scrap, by people who always give you:
Pass to 5 friends Blogs who you know have these qualities, so these are the 5 ladies I am passing it on to.
The other awards came to me from a lady I have just met and look forward to getting to know better. She has the most amazing psp scripts so be sure to check her out. Thank you
Joanne
for the lovely awards hun!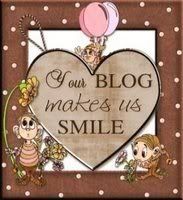 As I have already received and passed these on before I will just enjoy them here now hehee!!